And so another year draws to a close...This year has seen The Queen's Diamond Jubilee, Euro 2012, The London Olympics and Paralympics, plus the supposed end of the recession, but really what matters is what films rocked in 2012...
I couldn't recall to you just how many movies I've consumed over the past 11-12 months; it's a bloody lot, but as always I'll endeavour to tell you all about the best ones, so less of the chat and more of the list.
Honourable Mentions:
(dir: Sean Durkin - USA - Cert: 15 - Fox Searchlight - 115 Mins)
19.
The Hunt
(dir: Thomas Vinterberg - Denmark - Cert: 15 - Zentropa Entertainments - 115 Mins)
18.
Berberian Sound Studio
(dir: Peter Strickland - UK/Italy - Cert: 15 - Illumination Films - 92 Mins)
17.
Avengers Assemble
(dir: Joss Whedon - USA - Cert: 12A - Marvel Studios/Paramount Pictures - 143 Mins)
16.
21 Jump Street
(dir/s: Phil Lord/Chris Miller - USA - Cert: 15 - Metro-Goldwyn-Mayer - 109 Mins)
15.
The Muppets
(dir: James Bobin - USA - Cert: U - Walt Disney Pictures - 103 Mins)
14.
Celeste and Jesse Forever
(dir: Lee Toland Krieger - USA - Cert: 15 - Sony Classics Pictures - 92 Mins)
13.
The Hunger Games
(dir: Gary Ross - USA - Cert: 12A - Lionsgate Pictures - 142 Mins)
12.
Ruby Sparks
(dir/s: Jonathan Dayton/Valerie Faris - USA - Cert: 15 - Fox Searchlight Pictures - 104 Mins)
11.
End of Watch
(dir: David Ayer - USA - Cert: 15 - Exclusive Media Group - 109 Mins)
Safety Not Guaranteed
(dir: Colin Trevorrow - USA - Cert: 15 - Big Beach Films - 89 Mins)
Rarely are Indie films as hilarious and equally intriguing as
Safety Not Guaranteed
; a brilliantly told, fabulously executed and stupendously performed Sci-Fi Comedy-Drama about a classified advert asking for a companion to time-travel.
Aubrey Plaza
offers a career-making screen-turn whilst
Mark Duplass
and
Jake Johnson
provide brilliantly balanced characters, all of which are rendered with heart, warmth and intelligence. Début director
Colin Trevorrow
provides accomplished camera-work but the film's true genius lies in the also first-time screenplay from
Derek Connolly
who offers his characters simply excellent dialogue that's relevant, topical and side-splitting. This is dynamic, original and wholly satisfying filmmaking that's as explosive and engrossing as any major Hollywood blockbuster out there.
9.
Skyfall
(dir: Sam Mendes - UK/USA - Cert: 12A - Metro-Goldwyn-Mayer - 143 Mins)
Never has there been a more artfully captured, immaculately formulated and ferociously constructed James Bond movie, never.
Sam Mendes
'
Skyfall
is a cinematic dream accomplishment that's handled with such care, such dignity and such understanding; it's basically
The Dark Knight
for Bond fans.
Daniel Craig
's central performance is of the highest order but it's
Judi Dench
who steals the show as M, who finally makes a significant impact on the narrative.
Naomie Harris
makes for a loving Bond girl and
Javier Bardem
brings the same chilly yet enticing menace to his villain as Heath Ledger did with The Joker. With mind-blowing set pieces, incredible cinematography from
Roger Deakins
and breathtaking action including a stalking sequence in Shanghai which is certainly one of 2012's best visual moments, this is a film of unparalleled skill and brilliance that's sentimental to Bond's lengthy past yet is able to becomes an entirely modern affair.
Skyfall
is a knock-out.
The Dark Knight Rises
(dir: Christopher Nolan - UK/USA - Cert: 12A - Warner Bros. Pictures - 165 Mins)
If The Dark Knight Rises is anything, it's a cinematic milestone; a third film which brilliantly balances all the plot points, characters and ideologies from the previous two instalments and uses them to culminate in the completion of the greatest superhero trilogy in filmic history. With an impeccable cast including Christian Bale, Tom Hardy, Joseph Gordon-Levitt, Gary Oldman, Marion Cotillard, Michael Caine and a staggering performance from Anne Hathaway who wholeheartedly blows viewers away as the best Selina Kyle/Catwoman ever captured, plus incredibly intricate, artistic and stylised direction from master auteur Christopher Nolan, gloriously dark, ambient cinematography from Wally Pfister and a crashing, bellowing score from Hans Zimmer, this is undoubtedly the year's strongest, richest and most compelling blockbuster. The third film in a trilogy has the hardest job; it's forced to pick up it's predecessor's pieces and The Dark Knight Rises comfortably tackles that difficult challenge.
(dir: Paul Thomas Anderson - USA - Cert: 15 - The Weinstein Company - 144 Mins)
Paul Thomas Anderson's latest is perhaps the year's most dividing film and it's easy to see why. The Master is far easier to admire than love, but I found it to be an utterly enthralling, mesmerising and hypnotic cinematic adventure from an auteur at the peak of his powers. Dominated by three big, belting performances from Joaquin Phoenix, Philip Seymour Hoffman and Amy Adams, the characters offer so much heft for the audiences to grab on to and provide unmatchable intrigue and surprise throughout - merely the facial expressions of Phoenix speak volumes over the vast majority of other American performers this year. Anderson's decision to film with 70mm gives The Master a warm, radiant glow throughout it's duration - as if it's captured and rendered in HD. The film is extremely ambiguous, interpretive and designed to bother, but when watched with the right mindset, this is the year's most startlingly ambitious work which is utterly exquisite and impossibly harmonic.
Argo
(dir: Ben Affleck - USA/Canada - Cert: 15 - GK Films - 120 Mins)
Make one great film, good job. Make two, pat yourself on the back. Make three, good grief. Director and star Ben Affleck has just done that with Argo - a supremely riveting, utterly engrossing and nerve-shredding drama based on an legendary CIA rescue mission. Affleck's central performance is weighted by melancholy and doubt, yet his persona is one of hope and integrity; it's beautiful and brilliant to experience. Supporting work from Bryan Cranston, Alan Arkin, Tate Donovan, John Goodman and Chris Messina makes for only a stronger cinematic experience with Arkin and Goodman offering some fantastic comic relief. However Argo's greatest success come from Affleck's camera - his pacey, ever-evolving direction keeps the film ignited with suspense, drama and high-octane action. Never is anything predictable, never is there a dull moment and never is a wrong chord struck; this is Hollywood filmmaking of the highest possible order. It'll win Oscars, and rightly so.
5.
Silver Linings Playbook
(dir: David O. Russell - USA - Cert: 15 - The Weinstein Company - 122 Mins)
Some films deliver in every department; they manage to engage, surprise and stun almost seamlessly. One of those films is David O. Russell's Silver Linings Playbook - a beautifully told, brutally honest and starkly funny portrait of mental disorder and swooning romance. In many ways, the film is the perfect companion piece to his previous work, The Fighter; tonally and visually they share untold similarities but narratively, both films present ordinary people with extraordinary problems. These are eccentric characters that are equally charming as they are terrifying. O. Russell's brilliantly sharp dialogue keep the film balanced - never is it truly a romantic-comedy, or a drama; it's too difficult to pigeon-hole and that's a tremendous compliment. However the film's greatest assess is a band of great performances with Robert Di Nero giving his best work in recent years, Bradley Cooper starring in a career-defining and Oscar-worthy role and Jennifer Lawrence who absolutely steals the show in such a sexy, complex and dangerous screen-turn that it would be a travesty for her not to receive Awards recognition.


4.
Amour
(dir: Michael Haneke - France - Cert: 12A - Wega Film - 127 Mins)
You haven't seen a love story until you've seen
Amour
. One cannot recall another film that so brilliantly and honestly portrays every aspect of the emotion; the joy, the agony, the doubt, the desire and the pain when it begins to fade.
Michael Haneke
is a sheer master of storytelling and his latest is no exception to the rule - despite taking place entirely within a single set,
Amour
is an film that flourishes and grows, building and building until it's layers are so rich that it's enough to force you to tears. Performed with the greatest calibre by
Emmanuelle Riva
and
Jean-Louis Trintignant
who star as the octogenarians whose relationship is stunned when Anne (Riva) suffers a horrendous stroke leaving her paralysed down one side of her body. Films like this are more than rare, they are undoubted treasure; this is an immaculate film of towering beauty and bellowing sorrow that will have you sobbing and blubbering like an fool before standing for applause. It's no surprise it won the Palme d'Or at Cannes because when you watch Haneke's film, you have experienced motion-art. It's a devastating yet touching portrait that cannot be matched.
3.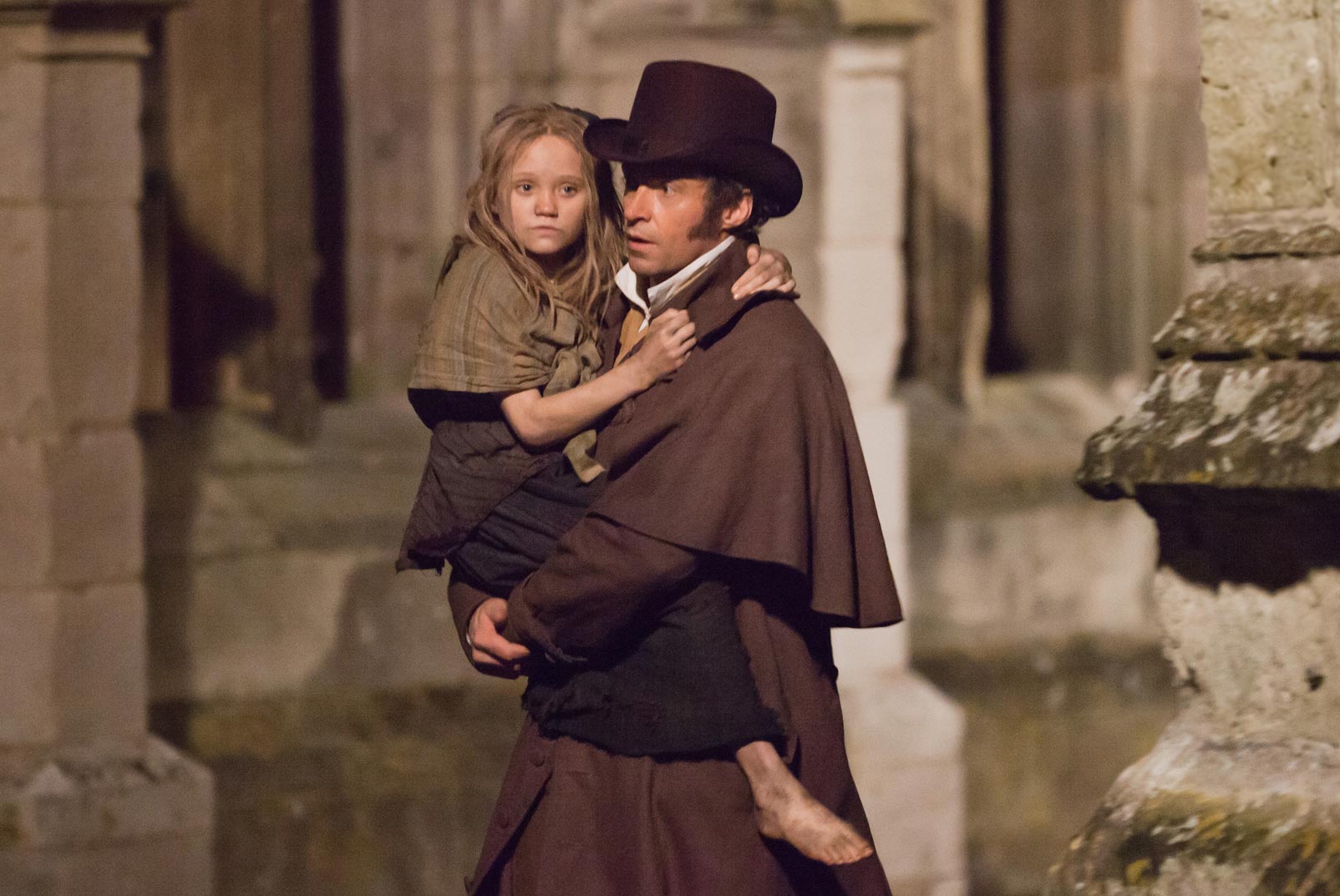 Les Miserables
(dir: Tom Hooper - UK/France - Cert: 12A - Universal Pictures - 157 Mins)
Whether you like musical cinema or not, there is just so much to appreciate in Tom Hooper's adaptation of the beloved West End production and novel. Few films can mirror the sheer emotional heft, the intrinsic beauty, the utter intimacy and indeed the phenomenal scale that Les Miserables has to offer it's audience; it's a supremely crafted, handled and formulated picture that will make and break the heart with it's switching tone and atmosphere. Almost entirely sung, the film asks untold amounts from it's ensemble cast and they all deliver. Hugh Jackman, Russell Crowe, Eddie Redmayne, Samantha Barks and Amanda Seyfried are all fantastic but Anne Hathaway steals the film as Fantine; a young mother forced into prostitution after losing her factory employment. Her rendition of the timeless 'I Dreamed a Dream' is screened in an unbroken 3-odd minute shot that's side-angled and filmed entirely in close-up. It's a moment of such unequivocal brilliance that has simply must be seen to be believed. It's perhaps the best cinematic scene of 2012 in one of the finest and most ambitious adaptations of all time. Les Miserables is a majestic masterpiece.
2.
The Perks of Being a Wallflower
(dir: Stephen Chbosky - USA - Cert: 12A - Summit Entertainment - 102 Mins)
There hasn't been a truly great coming-of-age drama since Adventureland back in 2009 but thankfully this year offered us The Perks of Being a Wallflower; perhaps the year's most unexpectedly brilliant movie. Offering frequent surprises in almost every department - from the score to the style, from the dialogue to the beautifully explored idea of loneliness, Stephen Chbosky's big-screen adaptation of his own novel provides untold amounts of charm, heart and pockets of sheer darkness. The film's tone is ever-changing; at times it's a rosy as any high-school flick, then it begins to wallow as we enter the world of introversion before shifting to such a bleak and unexpected corner that it simply side-swipes it's spectator. With universally fantastic performances from Logan Lerman, Emma Watson (whose American accent is pitch-perfect), Paul Rudd and a simply sublime Ezra Miller, it's clear how much Chbosky loves these characters and boy does that show here. Few films have touched and moved me as much as Perks and whilst watching, one had fond and sweet memories of watching Juno which is amongst my favourite films of all time. Perhaps in time, this film will join it because it's good enough to. I simply adored it.
1.
Rust and Bone
(dir: Jacques Audiard - France - Cert: 15 - StudioCanal/Sony Classics Pictures - 120 Mins)
When a film can stay lodged in the brain months after seeing it, you know you've seen something special. I've been thinking and pondering Jacques Audiard's sensational Rust and Bone for over half a year now and it grows with surging power and velocity daily. This is simply nirvana for film fans; it's uncomprehendingly beautiful, stark and honest - it's silver-screen euphoria that speaks to the heart, mind and soul. Marion Cotillard provides the year's best female performance in a role with so much depth and scale that she can simply run away with it. Paired with the equally brilliant Mathias Schoenaerts and viewers are offered the year's finest, most inspiring screen romance. Following Stephanie (Cotillard) - a Orca whale trainer who suffers a horrific injury and then develops a bond with Ali (Schoenaerts), a rough-and-tumble street fighter and young father, Rust and Bone is anything but conventional.
Audiard deserves plaudits and awards for his staggering, dizzying direction which is rendered with uncompromising wonder and delicacy. Every frame looks like a motion postcard bursting with colour and vibrancy; two things which mirror his performers and their world perfectly. The film is rich in it's drama, searing in it's passion and bursting in it's ambition. Rust and Bone is a challenging work, but like all the best films, it's brought to life by the grandness of the project and how that affects the viewer once you've left the theatre. It's films like this that remind us just how spellbinding and incredible cinema can be. It's a absolute masterpiece that's worthy of untold and endless praise, and is one of France's most important modern releases.