NO! Not this crap-fest!
However, this poster sort of sums up 2012 in film so far, because let's face it, the last three months have been pretty bland. Still, there is TONS of pictures around the corner which are inducing massive endorphins into one's brain so it isn't all bad, and keeping on the subject of 'not bad', here are my picks of the best movies released so far this year which if you haven't seen, go watch now.
Martha Marcy May Marlene
(dir: Sean Durkin - USA - Cert: 15 - 102 Mins)
Currently my favourite release of the year so far (which I actually saw in 2012 [technicalities and all]) - bold, ambitious and immensely affecting, Durkin's writing/directing début is a shell-shock for the senses and the psyche.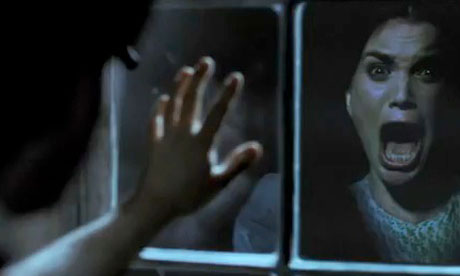 The Woman in Black
(dir: James Watkins - UK - Cert: 12A - 95 Mins)
Finally a generally scary ghost story. Watkins and Radcliffe make fireworks with their creaky house of terrors and place havoc with their spectators. The Woman in Black is chilling, engrossing and as much fun as you could have being spooked at the flicks.
The Muppets
(dir: James Bobin - USA - Cert: U - 103 Mins)
Whip-smart, hilarious and as nostalgic as you could ever wish for. Bobin and Segel's 2012 update for the most famous puppets in history is a celebration of music, cinema and colour that bounces off the screen in wondrous and charming fashion Plus it won a bloody Oscar. MANAH FLIPPING MANAH.
I would have included Steve McQueen's masterpiece Shame and Alexander Payne's perfect The Descendants; both of which are 2012 releases, but they featured on my top films of 2011 list as I saw them last year and selecting them again would be a total cop-out.
Films to get Excited About...