Nominated for 4 Academy Awards in 2011 without winning one; Winter's Bone is the film that proves the underdog still doesn't really stand a chance.
After re-watching Debra Granik's masterpiece as a further tipping of the hat to Jennifer Lawrence whose latest, The Hunger Games, is my current film of the year, I realised just how hard done by Winter's Bone was last year, despite taking home Golden Globes and winning the big prizes at the Sundance Film Festival.
Ironically, the awards the film most deserved to win were in the categories that weren't dominated by Tom Hooper's over-achieving The King's Speech, but stiff competition was far too set-in-stone for Granik's indie drama to break through.
Lawrence, who was nominated for Best Actress, was stacked against Natalie Portman for her fine turn in Black Swan as well as Annette 'I've never been as good as I was in American Beauty' Benning, Nicole Kidman and Michelle Williams, and although Portman was a worthy recipient, I can't help but think Lawrence deserved it just that little bit more. For a actress of such a young age to provide such a gripping, complex and emotionally taut screen presence is something surely worthy of celebrating and giving her the Oscar would have been the token of that feeling.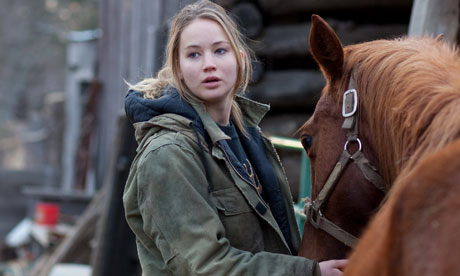 It's a similar story for John Hawkes who was beaten to the Best Supporting Actor award by Christian Bale for his good but incredibly showy performance in The Fighter (Mark Wahlberg was much better in the slighter and more intimate role - he was robbed too thinking about it.) - Hawkes' raw menace yet ability to makes audiences feel immense sympathy for is quite astonishing and much liker his chilling performance in Martha Marcy May Marlene, his work is something to cherish.
The 2011 Oscars cooked up a massive storm with all it's issues - we all know Inception and The Social Network deserved to sweep the ceremony and I still lose sleep over Christopher Nolan not being nominated, but perhaps if the Academy voters just opened their eyes a little more and saw the sheer staggering power of Winter's Bone and of it's performers, film fans might just have a little more faith in Hollywood, the Academy and the Awards season after all.
Ho-Hum...
If you haven't seen Winter's Bone, watch it now. Trust me.