It's already opened in the US alongside the tough competition of 'The Muppets' and it hits UK screens in 3D next Friday (December 2nd) but yet, still so many are asking me "What is it?" - so to answer this question, here's a list of things about 'Hugo' and why you should do your bit and go see it. Here we go...
1.
It's a MARTY film.
Martin Scorsese is one of the finest auteurs working in cinema today and has contributed so much to the film industry throughout his lengthy career. Scorsese has also devoted generous time to preserving silent and classic films as well as restoring films from Powell & Pressburger and other sensational filmmakers. Marty, much like many of us, is a film buff who loves watching and talking movies as well as directing them. Sure, 'Hugo' isn't going to be blood-splattered and foul-mouthed like many of his other films that we know and love, but the fact that he has made a family 3D film is extremely exciting and one is hopeful that it can be considered alongside his finest works.
2.
Critics LOVE it.
The praise from the USA has been incredible and some of the lucky few who have already seen it over here have gone mad for it too. I'm heading to the première on Monday night so I will share my review after. The big boys in America have cuddled and smothered it with glittering comments -
Roger Ebert gave it 4/4
, Richard Roeper graded it A+, and Richard Cordless simply dubbed it "a masterpiece".
3.
It teaches about Georges Melies.
One of the godfathers of the moving image, Georges Melies, is characterised in 'Hugo' by Sir Ben Kingsley and the film preaches much about his contribution to cinema and indeed the art of imagery. From magic lantern shows to the first uses of 'special effects' - all filmmakers owe a debt to Melies and for Marty to do so in a narrative feature rather than a documentary is quite incredible.
4.


Chloe Grace Moretz is in it.
She is one of the boldest and most talented young actresses to emerge from Hollywood for years. At only 14, she has made a sensational name for herself and managed to stay mature and genuine throughout the process. One loves her dearly and cannot wait to see her performance as British girl Isabelle. Watch a recent interview with her on Late Night with Jimmy Fallon below and try to resist her charm and wit - I dare you.
5.
The 3D is supposedly amazing.
Even James Cameron admitted it - calling the film a "masterpiece" too and saying it's one of the most vital 3D films, even more so than his works meaning 'Avatar'. Or perhaps he means the re-release of 'Titanic'? Yeah, he probably means that one because nothing is better than 'Avatar' - IT'S THE BEST FILM OF ALL-TIME...
I'm lying by the way.
6.
It's trailer is wonderful and intriguing.
The film's predominant trailer offers audiences enough to understand the location, tone and style of the film without showcasing every last inch of plot or intimate detail. This is an example of how films are supposed to be advertised. I haven't read Brain Selznick's novel 'The Invention of Hugo Cabret' - for which this film is adapted from but from what I've heard and researched online, it too is desperate to hide the mystery until the reader dives in. Here, Paramount and GK Films are thinking the same thing. Good on them. I've ordered the book so I hope it's as great as people say.
7.
It seems to be a 'proper' Family film.
Rather than silly jokes for children and risqué jokes for adults, 'Hugo' is clearly built and franchised on it's escapist themes and ideologies - something which everyone can relate to. This is a story about dreams, adventure, youth and discovery. Who can honestly say that doesn't interest or involve them? Exactly. It looks as if it will speak to your inner child, and that can only be a good thing.
8.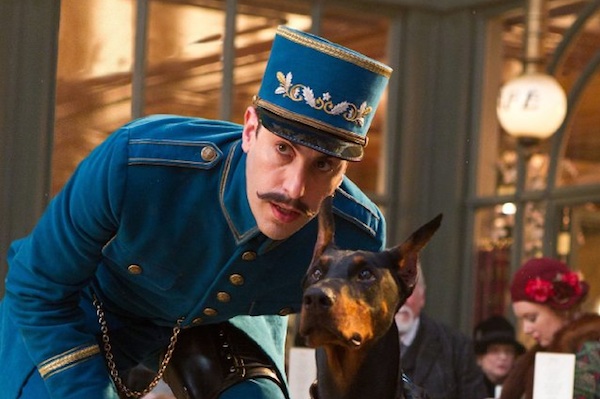 Sacha Baron Cohen falls into a cake.
The fact that Sacha Baron Cohen stars in 'Hugo' is enough reason to rejoice but the fact he falls head-first into a tiered wedding cake?
So hopefully this has cleared a few things up for those questioning and has perhaps persuaded you to go see the movie next weekend. Go on, do yourself a favour.